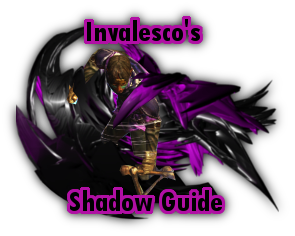 Banner courtesy of engrace
_________________________________________________________________________
Other Guides
Coldfire Crit Caster Shadow
CI Crit Dagger Shadow
Eldritch Battery EK Shadow
EB/Armour/HP Crit Dagger Shadow
_________________________________________________________________________
Changelog
17/11/12 - Birth of a new guide
6/12/12 - Updated guide and skilltrees
24/1/13 - Updated for Open Beta!

What is this build about?
This is a caster shadow build that optimizes
Speed-leveling
and
Safety
, making it extremely viable in week-long HC races, be it the standard mode or turbo mode!
It has been verified in Turbo HC by yours truly, managing to kill merciless vaal and entering maps within 22 hours of gameplay, albeit dying at level 64 by a careless careless mistake.
What skills does this build use?
This build is oriented around 2 skill gems:
Spark
+
Fork
.
Spark
is the only spell that can bounce off walls, making it possible to kill bosses in relative safety if you play it right.
Gameplay Videos
Bandit Quest Reward Choices
Normal: Help Oak for HP
Cruel: Help Alira for 4% increased cast speed
Merciless: Kill all the bandits for a skill point
Skill Tree Progression
31 Points
46 Points
60 Points
80 Points
111 Points
, Completed build
Pros and Cons of this Build
Pros
1. Very easy build to play
2. Brilliant in indoor maps
Cons
1. Does very poorly against lightning resist mobs
2. Relatively weaker in outdoor areas
3. Might get boring after awhile, will probably not be as fun as a dagger shadow
Usable in
1. Hardcore
2. Default
3. 1 Week HC Races
Gameplay Style
Spork
Best Spark support combinations, depending on the links you have
6L: Spark + Fork + Faster Projectiles + Lightning Penetration + Faster Casting + Pierce
5L: Spark + Fork + Faster Projectiles + Pierce + Faster Casting
4L: Spark + Fork + Faster Projectiles + Pierce
3L: Spark + Fork + Faster Projectiles
2L: Spark + Fork

Best Spark support combinations for your totem
Spell Totem + Arc + Faster Casting + Lightning Penetration
Spell Totem + Spark + Fork + Faster Casting/Lightning Penetration

Note: You can forego the faster projectiles support gem for Increased Critical Damage or LMP if you have a high quality spark and if you have gear that increases projectile speed

LMP is an option, but only recommended for end-game builds and not early on in game for the same reasons: proj penalty and mana cost.

Auras and Active Skills
Discipline, Clarity and Haste.
Discipline for survivability, Clarity for mana regen, Haste for faster running/casting

Curses
Conductivity will complement this build nicely because it lowers the lightning resist of opposing mobs and increases their chance of being shocked, which will amplify the damage they receive further
Enfeeble or Temporal Chains are also useful curses for ensuring safety

Survivability
Raise Zombies/Summon Skeletons linked to Minion Life will provide tank cover for your totem and yourself

Playstyle Versus Bosses
Pretty much just stay as far as possible from hard-hitting bosses and bounce sparks off walls :D

Early Gameplay Tips
This build is on a whole, very easy to play.
Early Game Gear
Focus on gear that gives you +life, namely leather belts with +life and rings/ammys with +life.
At this stage, ES gear is weak, so I would recommend you to stack Armour, resistances and HP to improve your survivability. Main objective here is to survive till late game where you can get good ES gear.
Skill Gems
All you need basically is Spark and Fork to start doing well. Usually I start off by creating a templar/witch for spark, and then using my shadow to get fire trap. After that I tend to get phase run, bear trap, raise zombies and summon skeletons.
The subsequent gems you'll need such as spell totem and faster casting don't come till later.
End-Game Gear
DPS Gear
These can come in the form of Wands/Sceptres/Daggers/Shields.
The mods you want to be looking out for in terms of decreasing order of priority are:
1.
%increased projectile speed
2.
%increased cast speed
3.
%increased critical chance for spells
4. %increased spell damage
5. %increased lightning damage
If an item has the bolded mods (above) on it, that automatically makes it very desirable, such that even if you come across an item which would provide slightly better DPS but without %increased projectile speed, I would still stick to the item with the proj speed mod.
Amulet
: Get any ammy with
+life
, +crit chance and +crit multiplier or spell damage/lightning damage and cast speed
Rings
: Resists and
+life
are a must. The rest are in order of descending priority: %Mana Regen, +Mana, Increased Cast Speed, %Lightning Damage
Belt
: +Life, Resists and +ES
For the rest of your defensive gear, just get any hybrid/pure ES equipment with +life and high ES.
If you can get
Kaom's Heart
as your chestpiece, all the better! If you manage to get Kaom's Heart, get a Quill Rain, 5L it and then link the following support gems on it:
Spark + Fork + Greater Multiple Projectiles + Mana Leech + Lightning Penetration
How do I get better gear?
Trading for better pieces of gear will be your main source. However, there will come a point when you realise that you can no longer get better gear through trading, and that is where crafting comes in, as explained in the next section.
How do I go about Crafting? All your answers and more!
Hope my guide has been helpful :)