The full patch notes for Path of Exile: Ultimatum are now available!

In order to help you prepare your builds and item filters we've also gathered the Passive Tree and Item Filter information.
Passive Tree Data
We've listed the changes to the passive tree in the Patch Notes but if you're a community tool creator, you can find the JSON data
here
. If you're not sure what to do with this information, don't worry too much! We'll update Path of Exile's built-in item filter in the game and the Passive Skill Tree on the website alongside the launch of the Ultimatum expansion.
Item Filter Information
Item filter functionality
Added the rest of the new Atlas base types to existing filters
Changed Convoking Wand to be included in the Atlas base type filtering
New unique Abyss jewels should now be filtered as unique items
Abyss jewels should now be filtered by rarity
New Items
Item Class: Active Skill Gem
Exsanguinate
Corrupting Fever
Reap
Petrified Blood
Item Class: Support Skill Gem
Arrogance Support
Bloodthirst Support
Cruelty Support
Lifetap Support
Item Class: Divination Cards
Winter's Embrace
Sambodhi's Wisdom
The Enthusiasts
Broken Promises
Brush, Paint and Palette
Deadly Joy
The Adventuring Spirit
The Eternal War
Prejudice
The Shortcut
The Card Sharp
A Modest Request
Luminous Trove
The Hook
Item Class: Stackable Currency
Veiled Chaos Orb
Noxious Catalyst
Accelerating Catalyst
Unstable Catalyst
Tainted Oil
Item Class: Incubator
Blighted Incubator
Morphing Incubator
Maddening Incubator
Item Class: Map Fragment
Rusted Blight Scarab
Polished Blight Scarab
Gilded Blight Scarab
Winged Blight Scarab
Rusted Abyss Scarab
Polished Abyss Scarab
Gilded Abyss Scarab
Winged Abyss Scarab
Sacred Blossom
Item Class: Misc Map Item
Vaal Reliquary Key
Chronicle of Atzoatl
Inscribed Ultimatum
Item Class: Body Armour
Atlas Base Types
Item Class: Amulet
Item Class: Boots
Item Class: Gloves
Item Class: Quiver
Item Class: Ring
Other changes
Blood Magic Support has been split into Arrogance and Lifetap Support. Existing Blood Magic Support Gems will be converted to Arrogance Support Gems.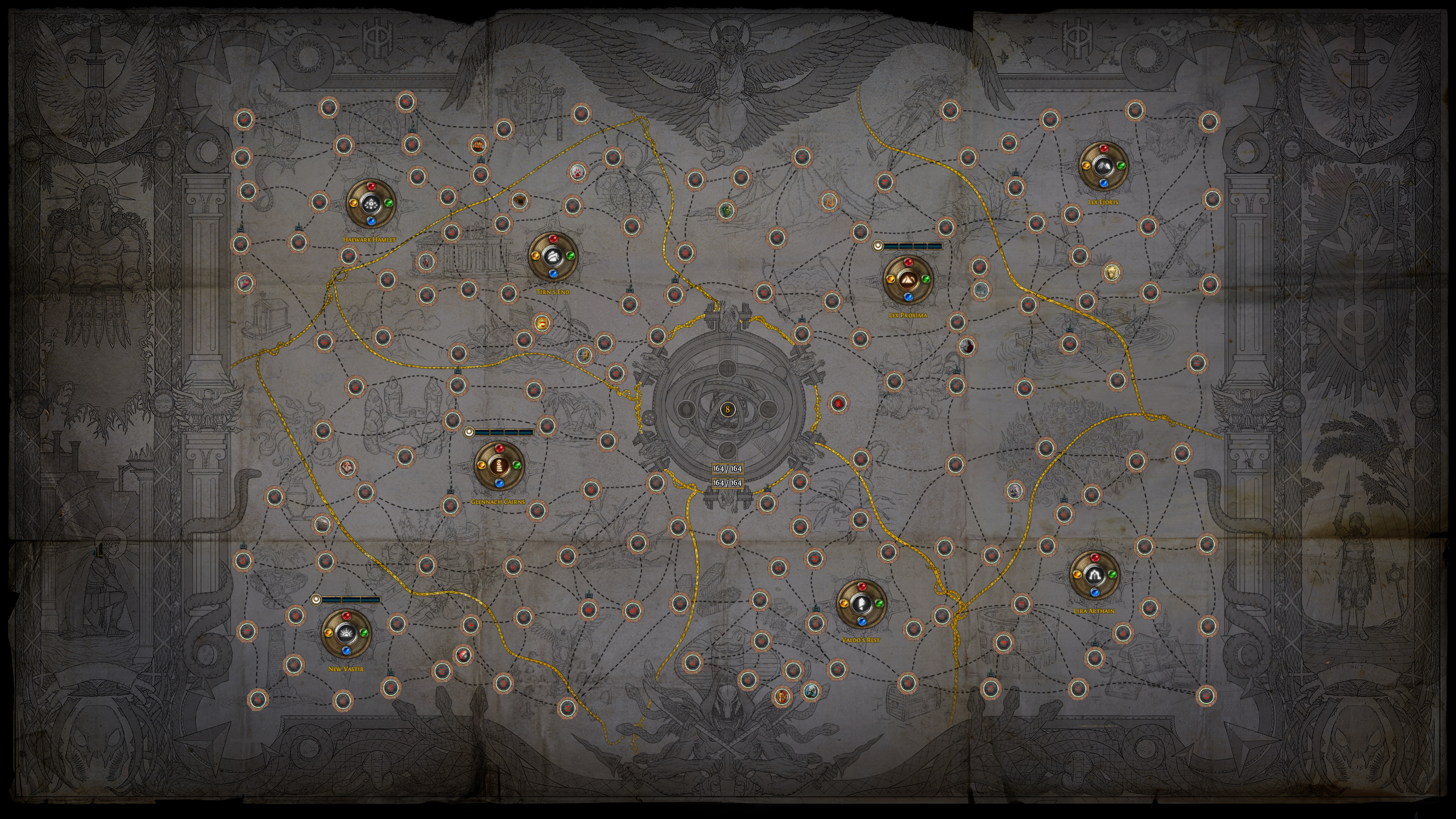 Map Tiers
Note that there has not been a shuffle of the Atlas for Ultimatum. Map tiers are unchanged from Ritual.
Tier 1
Pen Map
Arcade Map
Jungle Valley Map
Coves Map
Tier 2
Peninsula Map
Grotto Map
Volcano Map
Frozen Cabins Map
Fields Map
Wharf Map
Underground Sea Map
Crater Map
Underground River Map
Gardens Map
Infested Valley Map
Tropical Island Map
Moon Temple Map
Tower Map
Arena Map
Promenade Map
Lair Map
Spider Forest Map
Defiled Cathedral Map
Sunken City Map
Tier 3
Graveyard Map
Arid Lake Map
Strand Map
Glacier Map
Canyon Map
Forking River Map
Sulphur Vents Map
Toxic Sewer Map
Ancient City Map
Ashen Wood Map
Cemetery Map
Lava Chamber Map
Laboratory Map
Overgrown Ruin Map
Vaal Pyramid Map
Geode Map
Courtyard Map
Mud Geyser Map
Shore Map
Temple Map
Belfry Map
Pier Map
Orchard Map
Factory Map
Primordial Blocks Map
Plaza Map
Basilica Map
Reef Map
Tier 4
Lookout Map
Desert Map
Marshes Map
Iceberg Map
Cage Map
Leyline Map
Courthouse Map
Channel Map
Academy Map
Ramparts Map
Dunes Map
Bone Crypt Map
Museum Map
Wasteland Map
Precinct Map
Primordial Pool Map
Crystal Ore Map
Arsenal Map
Crimson Temple Map
Tier 5
Cells Map
Chateau Map
Lighthouse Map
Haunted Mansion Map
Atoll Map
Armoury Map
Waste Pool Map
Shrine Map
Desert Spring Map
Palace Map
Carcass Map
The Beachhead Map
Tier 6
Malformation Map
Silo Map
Tier 7
Waterways Map
Dark Forest Map
Tier 8
Alleyways Map
Dry Sea Map
Racecourse Map
Tier 9
Dungeon Map
Relic Chambers Map
Spider Lair Map
Mausoleum Map
Mineral Pools Map
Overgrown Shrine Map
Stagnation Map
Tier 10
Forbidden Woods Map
Phantasmagoria Map
Scriptorium Map
Ghetto Map
The Beachhead Map
Tier 11
Flooded Mine Map
Fungal Hollow Map
Port Map
Grave Trough Map
Cold River Map
Conservatory Map
Ivory Temple Map
Tier 12
Crimson Township Map
Coral Ruins Map
Siege Map
Shipyard Map
Dig Map
Tier 13
Maze Map
Plateau Map
Cursed Crypt Map
Park Map
Tier 14
Beach Map
Excavation Map
City Square Map
Barrows Map
Thicket Map
Residence Map
Sepulchre Map
Mesa Map
Caldera Map
Core Map
Colosseum Map
Acid Caverns Map
Bramble Valley Map
Tier 15
Foundry Map
Bazaar Map
Estuary Map
Vault Map
Arachnid Tomb Map
Bog Map
Colonnade Map
Summit Map
Castle Ruins Map
Villa Map
Terrace Map
Lava Lake Map
The Beachhead Map
Tier 16
Burial Chambers Map
Arachnid Nest Map
Pit Map
Necropolis Map
Pit of the Chimera Map
Lair of the Hydra Map
Maze of the Minotaur Map
Forge of the Phoenix Map
Vaal Temple Map
The Beachhead Map
Report Forum Post