This November, community streamer Zizaran is organising a 10-day Racing Gauntlet Event. Racers will compete and earn points by levelling their characters, killing bosses and exploring the depths of the Azurite Mine. This will take place in a Private HCSSF League with all damage mods and increased monster life active. The prize pool is funded by the community and sponsors who teamed up with Zizaran to support this event.
Start Time and Information on How to Join
The event will have all Damage Mods enabled as well as Increased Monster Life via the Private League System. Players will receive points based on levels and specific boss kills.
Start time
: November 14th at 3:00 PM GMT (countdown available
here
). The event will last for 10 days.
Players will be able to join the event on November 10th at 3:00 PM GMT (countdown is
here
), first come first serve until the Private League is full (there are 10,000 slots).
The invite link will be available in the join-here section of the Racing Discord here.
Prize Pool
The prize pool is crowdfunded by sponsors and community streamers such as
Steelmage
,
Alkaizerx
,
Octavian0
,
Datmodz
,
Baker
,
DS_Lily
,
Zizaran
and more! Streamers and their communities will be able to create a bounty with the money they fundraise for the event. Bounties are custom rewards that the community will create together to reward players. Pay attention to their social media for more announcements regarding when and what their fundraisers will be!
Zizaran's sponsors will be matching all donations to the prize pool (up to $25,000). The total prize pool will be split as follows:
Development Cost: 5% - To be distributed amongst Community Developers who help the event.
Minus bounties placed by streamers and their communities during the fundraisers.
1st: 35%
2nd: 20%
3rd: 10%
4th: 8%
5th: 7%
6th: 6%
7th: 5%
8th: 4%
9th: 3%
10th: 2%
11th-15th: Arcane Seraph Wings + Dusk Weapon Effect
16th-20th: Hydra Wings + Kraken Portal
Random Draw
Leveling your characters and reaching certain Delve depths can put you in random microtransaction and physical prize draws (provided by sponsors)! For example, if you reach level 90 and Delve Depth 200 with one character you would be in the draw to win any of the prizes below! You can gain more than 1 ticket per account for the microtransaction/physical prizes, however you cannot win more than one prize per category below: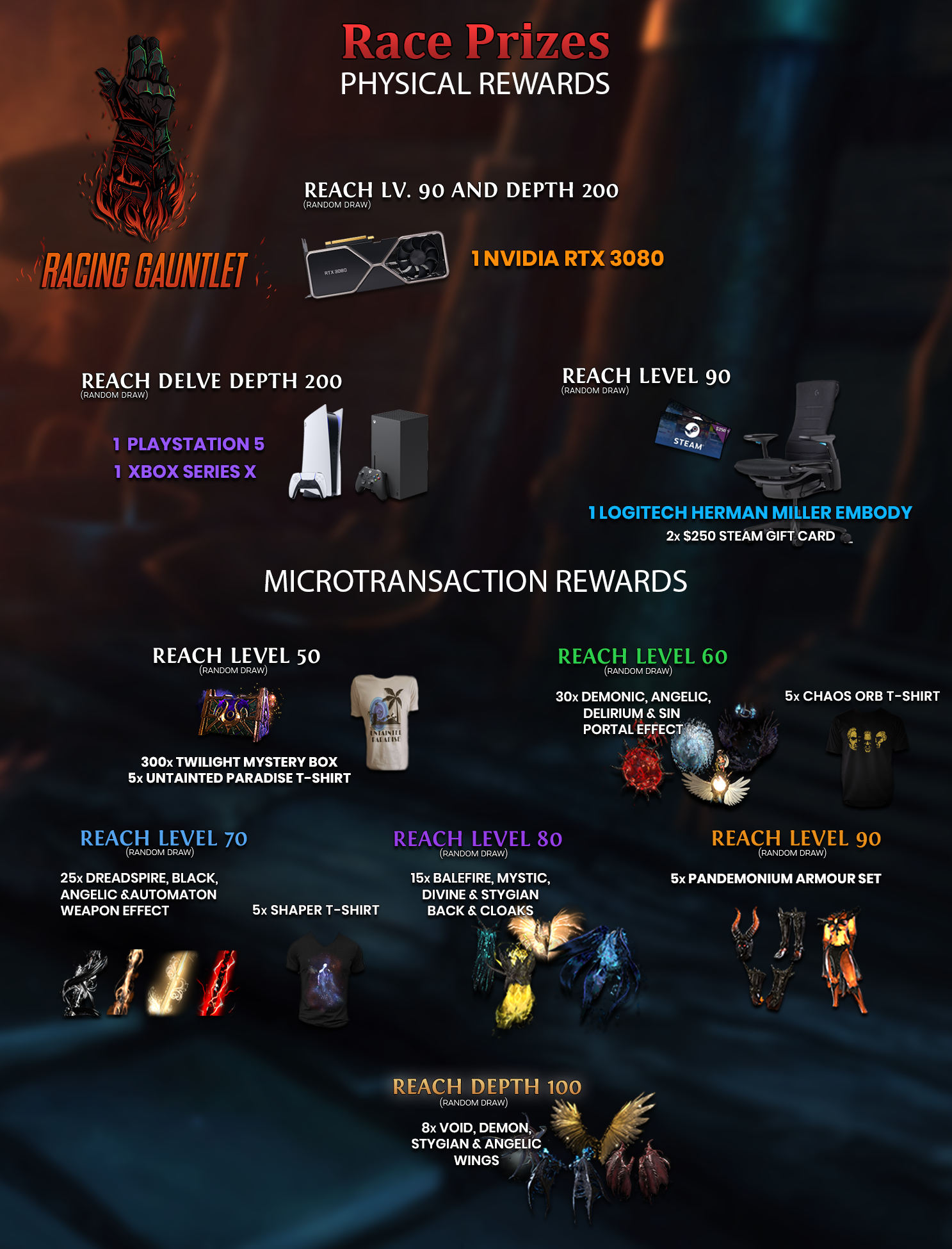 Where to Watch
If you would like to keep an eye on exciting moments of the race, be sure to check out Zizaran's
Youtube Channel
where Skryah and OMGItsJousis will be cooking up highlights!
Click here to learn how to join the event and find out more information about rules, point system and prizes, or if you'd like to contribute to the event.
Special thank you to community members Faderon, MrMadakey, ManWithHat, OMGItsJousis, Skryah and Vauche for their contributions to the event as well as Viyro for organising.
Good luck to everyone who's participating!
Report Forum Post